There are different motivations for the wish to remove a tattoo. They range from a change in aesthetic perception to allergic reactions to the tattoo's dyes.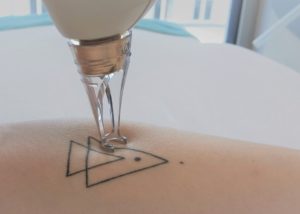 Before beginning a tattoo removal, the tattoo is thoroughly assessed. In doing so, colour composition, the tattoo's quality (professional or amateur tattoo), any existing scarring and the existence of nevi in the tattoo are checked. Both the expected therapy success and the necessary number of treatments can be evaluated this way. Usually, 10 to 15 treatments in 6-week intervals are necessary.
We regularly perform tattoo removals using a Q-switching Nd:YAG laser (neodymium-YAG laser) in our practice. Because the treatment is conducted by medical staff, it may be accompanied by pain treatment (medicinal pain control, cryoanaesthesia) if the patient wishes so in case of larger ornaments.
A full removal or significant brightening cannot be achieved for all patients. The best results can be achieved for black tattoos followed by blue and brown ones while colours such as red and orange can hardly be affected.