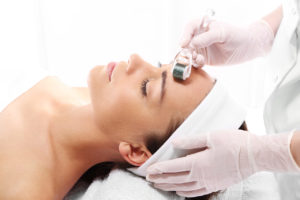 The medical and cosmetic needling therapy has proven itself a low-invasive and at the same time effective treatment method for a variety of skin problems.
These include:
Refinement of the complexion
Treatment of fine wrinkles
Optical and structural improvement of stretch marks
Scar treatment (e.g. acne scars, chickenpox scars)
Hair loss (also in combination with platelet-rich plasma)
The micro tubules are unerringly injected into the skin and lead to a stimulation of new collagen and elastin formation as well as to a restructuring of the present collagen. The skin therefore gains elasticity and its connective tissue is tautened.
Before each treatment, a specially made cream is applied to the skin for local anaesthesia. This way, the patient's treatment experience is more comfortable. The treatment's intensity depends on the respective medical indication and is adjusted using a special needle roll with different needle lengths. Depending on the individual intensity, it is possible the patient will need to take time off from work lasting between two days and two weeks.